Profile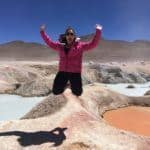 Yvonne Lenighan
Curriculum Vitae
Education:

Holy Family National School Newport (1995-2003), Sacred Heart School Westport (2003-2009) University College Dublin (2009-2013)

Qualifications:

BSc Human Nutrition, TEFL Teaching Certificate

Work History:

Nevins Newfield Inn (Waitress/Bar Staff)

Current Job:

PhD Student University College Dublin

Employer:
Favourite thing to do in science: I love to teach science to children and adults!

About Me: I love to travel, spend time with family and friends, run, cycle, climb mountains, read and drink tea!

My Work: I am investigating if grass-fed beef is healthier than grain-fed beef

Read more

Grass-fed beef has more of the omega-3 fatty acids which have been linked to health benefits… My research is to investigate if eating this grass-fed beef is healthier than eating grain-fed beef.

My Typical Day: I have two typical days... some days I work in the lab carrying out scientific tests... other days I work with people-they come into UCD, eat either a grass-fed or a grain-fed burger and we take blood samples... this blood will be used to see if grass-fed beef is better!

What I'd do with the money: I would buy teaching resources

Read more

I often give talks about how to eat healthy, portion size etc. to children and adults. I currently do this using a computer presentation. However, if I won the prize money I would buy visuals to go with my presentations. For example, I would buy a large food pyramid with all the foods that go on each shelf, I would have examples for the portion size of foods and meals that we should be eating  and I would buy a shopping trolley full of healthy food to show students and adults what they should be buying to eat healthy-and then they can teach you children!
My Interview

How would you describe yourself in 3 words?

Chatty, enthusiastic and smiley!

Who is your favourite singer or band?

Ed Sheeran

What's your favourite food?

Thai food!

What is the most fun thing you've done?

White water rafting in Thailand!

What did you want to be after you left school?

A nutritionist-lucky to achieve this!

Were you ever in trouble at school?

A little bit... I was a chatterbox!

What was your favourite subject at school?

Science!

What's the best thing you've done as a scientist?

Published my results for the world to see!

What or who inspired you to become a scientist?

Ms. Ruane-my secondary school science teacher

If you weren't a scientist, what would you be?

An accountant!

If you had 3 wishes for yourself what would they be? - be honest!

To be able to teleport to Mayo in 5 mins, to win the lotto and to always have sun in Ireland!

Tell us a joke.

What food should you eat to improve your eyesight?... Seafood!
My profile link:
https://foodn17.imascientist.ie/profile/yvonnelenighan/
---
---