Profile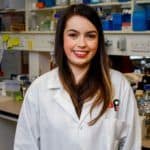 Ciara O' Donovan
Nervous for the final day tomorrow!
Curriculum Vitae
Education:

Cork Institute of Technology (2011-2015)

Qualifications:

BSc (Hons) in Nutrition and Health Science

Work History:

Teagasc

Current Job:

PhD student

Employer:

APC Microbiome Institute and Teagasc
Favourite thing to do in science: Getting something to work if it has been tricky to get working or getting results from a challenging experiment.

About Me: PhD student who loves baking, reading, travelling, playing board games and being outside in nature.

Read more

I am a 24 year old Corkonian in the third year of my PhD. I have always lived in Cork and completed my undergraduate degree in Nutrition and Health Science in CIT.

When I am not working on my PhD my favourite thing to do is baking. I love trying out new recipes for family and friends. Being outside on a beach or in the forest breathing in the fresh air also really helps me relax after a long day. I love watching movies and so usually head to the cinema once a week.

My Work: Looking at the gut microbes in athletes.

Read more

My work involves looking at the microbes (bacteria, fungi and viruses) in athletes. I am trying to figure out if athletes have different microbes and if they function differently from non-athletes and also if there are differences between sports.

My Typical Day: Early start and a lot of computer work.

Read more

I am such a morning person so I am normally up and out the door bright and early. Most of my current work involves data analysis going through the data I have generated so far about these microbes to try and find the differences and similarities. I also do a lot of reading papers and writing reports. This means a lot of time spent on the computer at the moment.

What I'd do with the money: Host a workshop for students to show them a little bit about what I do.

Read more

A lot of my work involves DNA sequencing and the analysis of this and so I would like to give a workshop on this explaining and going through the steps of extracting DNA and then explaining what happens during sequencing. I would use the money to get equipment to run this workshop.

My Interview

How would you describe yourself in 3 words?

Organised, bubbly, ambitious

Who is your favourite singer or band?

Hudson Taylor

What's your favourite food?

Pizza followed by any dessert

What is the most fun thing you've done?

Kayaking in a lake with bio-luminescent plankton

What did you want to be after you left school?

A 'cooker' when I was very small. A teacher as I got older.

Were you ever in trouble at school?

No serious trouble, occasionally told off for being a little too giggly!

What was your favourite subject at school?

Biology and Home Economics

What's the best thing you've done as a scientist?

I really love getting the opportunity to present my work.

What or who inspired you to become a scientist?

My supervisors when I was completing my placement in college.

If you weren't a scientist, what would you be?

Baker

If you had 3 wishes for yourself what would they be? - be honest!

1. Be able to play piano 2. Own a house 3. Have a dog

Tell us a joke.

Do I know any jokes about sodium? Na.
---
---
---