Students, tell us what you think for a chance to win a £20 voucher! We've emailed you with a quick survey to fill out. If you haven't received it let us know.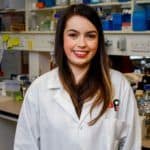 Hello everyone,
I don't think it has sunk in yet that I won the I'm a Scientist, Get me out of here Food Zone. When I set up my profile over two weeks ago I felt nervous and unsure what to expect but now I am so glad that I participated (and slightly overwhelmed that I won!). It was the most amazing two weeks to experience such inquisitive minds from all over the country, and I am a little sad that it is all over and I have no questions to answer this week. Thank you so much to all of you who voted for me over the past two weeks, to be the winner out of the amazing group that was the Food Zone is a real honour so thank you for your votes.
To the moderators, organisers and funders – thanks for putting on such a great event because without ye this wouldn't be possible. Everything on the site ran so smoothly and any issues were quickly solved. Thanks for chatting with us too in the quieter chats and giving me a good laugh in the staffroom.
To the teachers – thanks for participating in this event and allowing us scientists to showcase what we do and answer the students questions. Ye should all be so proud of the students that were participating in this event from all of your schools. Their questions blew me away and ye are lucky to be teaching those who will definitely make great scientists someday. To the students please keep thinking in the way that ye do. Ye have helped me think in a different way these last two weeks which has given me a new excitement going forward to question everything a little more in the way that I once did as a child. If you are at all interested in science just keep following your passion and find which area really appeals to you.
Last but definitely not least, a massive thanks to my fellow scientists from the Food Zone. Yvonne, Yannis, Gonzalo, Golnaz and Elaine it has been so much fun getting to know more about all of your different fields these last two weeks. All of your answers to questions were top notch and it was nice to have someone to share the craziness of the live chats with. I wish ye all the best in everything ye do and maybe our paths will cross again someday!
I am so excited to plan a DNA sequencing event over the coming months. I can only hope that the students who participate in this event are half as inquisitive as you have all been.
Thank you all so much,
Ciara